832
468
#Oscars Brand Recap: How Samsung, Pepsi, and Pizza Stole
the Show
So, the Oscars last night were actually pretty good, huh? The host was on-point, the guest-list was star-studded and the awards (in my opinion) ended up in deserving hands. But, some of the greatest moments from the show weren't happening on the stage, but on social. Companies took advantage of the huge opportunity an awards show of this magnitude provides, and these are the brands who did it best.
Samsung
If only Bradley's arm was longer. Best photo ever. #oscars pic.twitter.com/C9U5NOtGap

— Ellen DeGeneres (@TheEllenShow) March 3, 2014
Alright, this was the biggest marketing win of the evening and is officially in the record books. Oscar host Ellen Degeneres was the most engaging and creative host I've ever seen. Brands must've thought so too, as they hopped in on the opportunity to get in on Ellen's funny-girl action. Ellen's epic selfie became the most RT'd Tweet of all time, beating the cutest POTUS / FLOTUS picture of all time. Not only did the photo go viral, but the #EllenSelfie hashtag peaked at 15,141 mentions per minute.
Big Mama's and Papa's Pizza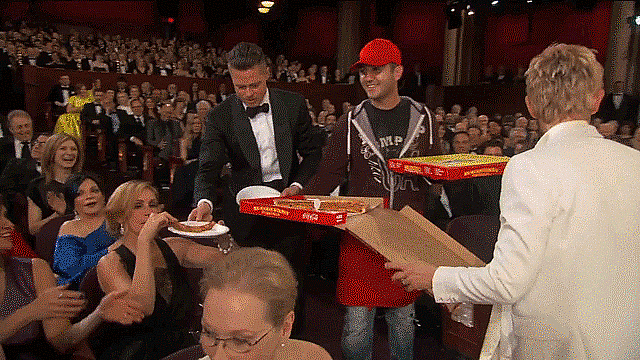 Nobody can get upset about product placement if it's pizza! Los Angeles-based franchise, Big Mama's and Papa's Pizzeria, was at the forefront of my favorite Oscar moment. Ellen ordered a few pies and passed them out to the star-studded cast with the bewildered delivery man (who isn't an actor, but is the actual owner of their Sunset Boulevard location). This is the type of spontaneity that gets people laughing, then observing, then admiring, then wondering… Where is that place? Already, news outlets and magazines are covering this story and wondering, "Is that pizza they had at the Oscars any good?"
Pepsi's Mini Cans
GREAT commercial. This year, brands treated their Oscar ad spots like prime time at the Super Bowl, and Pepsi came out on top. The 60-second spot chronicled some of the most memorable movie lines of all time, while promoting the #MiniCanQuotes hashtag.
Love seeing Pepsi Mini Cans' small screen debut at the Oscars last night? Watch it again: http://t.co/LuODv9IMBK #MiniCanQuotes

— Pepsi™ (@pepsi) March 3, 2014
Arby's
Remember how weird Pharrell's hat was at the Grammy's? Well, at the Oscars he wore a black one instead, because his old hat sold on Ebay to Arby's for $44,100. Arby's did a great job of extending their Grammy buzz and find a way to apply it to the Oscars. Awesome timely promotion, which also gives back to charity. Win-win!
.@Pharrell You're welcome. We're HAPPY to support a great cause & get our hat back. Good luck at the #Oscars tonight! pic.twitter.com/2oA7qDPX9z

— Arby's (@Arbys) March 3, 2014
Miller Lite
During Matthew McConaughey sentimental acceptance speech, he gave Miller Lite a nice little plug. McConaughey said, "My father – who I know is up there right now, with a big pot of gumbo, he's got a lemon meringue pie, he's probably in his underwear, and he's got a cold can of Miller Lite – and he's dancing." Miller Lite was quick to pull the trigger on this opportunity and crafted this short & sweet Tweet.
Miller Lite. The official beer of award winning actor's dads.

— Miller Lite (@MillerLite) March 3, 2014
The Oscars were more entertaining this year than ever before, both on and off screen. As brands become better at real-time marketing, we can certainly expect to see more creative Tweets next year.
My name is Jade and I'm the Social Media Manager for Simply Measured. We can find common ground in Beyoncé and Chipotle burrito bowls.