832
416
The Weekly Digital
Marketing Round-Up
Bet you've heard this one before: The digital marketing world is evolving quickly. To remain competitive, we must understand the entire ecosystem, not just the topics specific to our jobs and responsibilities. But even if you check Twitter every five minutes, subscribe to The Skimm, and have sophisticated alerts set up, you're bound to miss something: a social network development, a hot-off-the-presses study, a new ad campaign.
We've got you. Here's the latest, for the week of December 2-9.
1. Facebook Is Correcting More Metrics
Facebook just announced that it will be correcting more issues with its metrics, including:
Audience estimation for ads: This is an update to Facebook's ad creation tool, improving methodology for potential overall campaign reach and estimated daily campaign reach. This will give ad marketers a more accurate estimate of target audience on Facebook, Instagram, and the Audience Network.
Live video reaction counts: Facebook has been misallocating extra reactions per user (Likes, Hearts, etc.) to the "Reactions from Shares of Post" section, instead of "Reactions on Post."
For your brand, this issue could have given the impression that Live Videos were seeing more engagement when shared than they really were.
Facebook says:
This fix…will increase the 'Reactions on Post' by 500 percent on average, while decreasing the 'Reactions on Shares of Post' by 25 percent on average.
Like and Share buttons: There has been a discrepancy between the counts for Like and Share buttons via Facebook's Graph API and the counts when you enter in a URL in the search bar in the Facebook mobile app.
These corrections are small potatoes when it comes to previous announcements this year of misreporting in products like Instant Articles, video, and Page Insights, but still worth paying attention to.
2. Snapchat Live Stories Viewership Cools; So Do Ad Buys
There are two ways to advertise on Snapchat: in the Discover feature, or using Live Stories. Many ad buyers confirmed to Digiday that daily viewership for Live Stories has gone down, "especially since Snapchat pushed Live Stories and Discover content lower down the Stories page."
With no in-depth Snapchat analytics available yet (thus no "repeatable path to ROI," as one ad exec put it), Snapchat ads continue to be solid options for major brands trying to reach the much-coveted millennial market, but not a "must-have."
3. STUDY: Only 6% of CMO's Are Driving Global Revenue
In a new CMO Council and Deloitte study of more than 200 CMOs and marketing VPs, CMOs self-report the struggle to grow business in their organizations. The report is full of other findings, too, including:
Just 8% of survey participants say they are finding new ways to recover, reactivate, and re-engage lost, languishing, or dormant accounts.
Only 10% are embracing customer-direct eCommerce channels and new monetization programs that upsell and cross-sell based on intimacy and context
Just 8% admit to auditing, assessing, and continually improving the customer experience.
Only 7% say they are looking for strategic partnerships, alliances, and acquisitions that drive growth.
This doesn't mean that CMOs and marketing VPs see themselves as inactive:
However, the study concluded that CMOs often get sidetracked by a "legacy of brand-centric strategies and campaign-focused actions," which makes it hard for them to innovate. For the rest of the findings, download the whole shebang here.
4. NASA Added Pinterest and GIPHY to Its Digital Toolbelt
NASA has a robust Instagram presence already, and today branched out to Pinterest and GIPHY, too. Here's NASA on Pinterest:
And here's one of NASA's latest GIPHY uploads: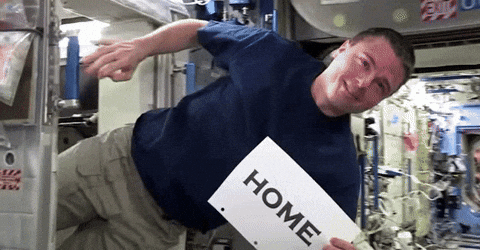 As NASA continues its efforts to remain relevant and top-of-mind for a younger generation, the agency is expanding its digital strategy to touch those folks where they are already active and communicating.
That's all for this week! Need help organizing your 2017 plan? Download the guide below to get a head start.
Get everything you need to analyze the metrics that matter
2017 Social Marketing
Planning Guide
Download
I'm the Head of Marketing Communications here at Simply Measured, where I'm responsible for our content program, social media marketing, PR, and comarketing ventures. I love yoga, The X-Files, peaty scotch, hiking, and poetry. If I were a social media channel, I'd want to be Instagram, but I think I'm Twitter.