832
416
What Will Social Look Like at the End
of 2016?
By the end of 2016, social media may look vastly different. We already know that video and live streaming will play a bigger part, but with more visual content than ever before, social media may steer away from snarky one-liners to live broadcasts.
10 Social Media Trends You've Been Ignoring
Or it may go in the other direction, as people look for less-public ways to express themselves. Either way, here are five developments that got my attention in the past month. They have strong implications for the future of social marketing.
1. Peach
The app has already been declared dead. So why do I care? Because Peach was never designed for longevity or mass appeal. It is disruptive, designed to push the industry forward, much like Google Fiber.
Google never wanted to be an Internet provider. Still, they offer Google Fiber in select locations so that other providers will create faster Internet speeds. More speed equals more searches — consequently, more money is made.
Peach, created by a co-founder of Vine, aims to do the same, only without a real capitalistic goal. Its "Magic Words" are brilliant. Type a word in, and you can instantly do a variety of things and quickly post a GIF based on your mood. As my Podcast co-host Eric Hultgren says, "It reduces friction." These shortcuts make Peach fun, fast, and, perhaps most importantly in such a saturated market, different.
Other social networks are too large. Our habits are too entrenched. The masses will not pick up and move to Peach. But large social networks will start implanting the best features of Peach — and quickly. It's no coincidence that Twitter already introduced GIF search.
It's possible that Peach was designed to just test new market features without alarming users on larger platforms, because we know how much Twitter and Facebook users love change…
2. Twitter Introduces GIF Search
In 2015, there were 100 million GIFs shared on Twitter. And that's before it was easy to do it: you had to download the GIF, upload it from your gallery, and then post it. That's a lot of friction.
Giphy made it easy to find GIFs. Twitter has now made it easy to post them publicly. Twitter's partnership with Giphy and Riffsy reduces friction and should lead to an extraordinary increase in GIF consumption. The first major event since this release, The Oscars, set records with Leonardo DiCaprio GIFs.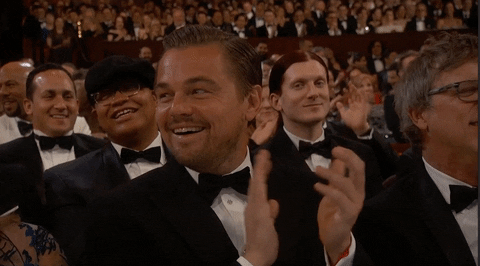 And if you don't think GIFs are important right now in social media, think again: they currently increase conversion rates by 103%.
3. Facebook Reactions
Facebook will obviously have to react to Twitter's latest move. Don't be surprised if they make posting GIF's far easier on their platform as well. They have already done a great job of it inside Messenger. In fact, the only way my Mom and I communicate now is through a series of GIFs sent through Messenger. She's amazing!
But the more important Facebook development is Facebook Reactions. No hot takes here. Everyone spent a great deal of time discussing their importance last week. They won't change your life, but they do refresh Facebook and make interactions fun again.
Plus, being able to use a strategically sarcastic "Wow" after someone Instagrams their food or finishes a workout may never get old.
4. Medium + The Ringer
At first glance, Medium is just a blog-publishing platform — a place where anyone can post an article online about anything. But it's more than that. In late 2015, Twitter hinted at expanding to 10,000 characters. That wasn't exactly correct. The tweets would remain intact, but they would add a blog-publishing platform inside the app where you could write in article in Twitter. Medium, after all, was created by Twitter's co-founders.
Bill Simmons, who left ESPN and created BSPN (The Bill Simmons Podcast Network), launched Grantland a few years back. It was an amazing sports journalism site backed by ESPN. Grantland didn't survive Bill Simmons' exit and was shut down a few months after his exit. Simmons is currently preparing to launch an HBO show later this year. He has also hired staff and created a new sports website. Only this time, he's doing it differently.
Simmons is partnering with Medium to create his new site, The Ringer. It's the first time someone has opted to build a large website inside the publishing platform. If this goes well, expect it to open doors for others to create dynamic news sites. We'll know if this model works by the end of 2016. Just in case, I'm already planning my site now.
5. Anonymous Messaging
"My professor asked me why my backpack is so big. I told him: it's full of secrets." — Notre Dame

— Yik Yak (@YikYakApp) March 7, 2016
Whether it's Yik Yak, Blindspot, or another potential new entrant, expect anonymous social media to grow.
https://www.instagram.com/p/BB8wpjxI8Dp/
It's insanely popular with college students and younger demographics. It's easy to use and doesn't require any set-up or constant posting.
There is a subset of people who don't want to broadcast everything, become a social influencer, or get people to read their blog. They just want to consume content, be entertained, and discuss trending topics. Social media has become, to some extent, a visual resume for HR to discover and dissect. Most college students are not doing anything they have to hide, but they are also not as compelled to share everything publicly because of that.
Which social trends and developments do you think will change the landscape of social marketing by the end of 2016? Hit me up on Twitter, and download Simply Measured's 2016 Social + Digital Marketing Predictions for more forward thinking.
Get everything you need to analyze the metrics that matter
2016 Social + Digital Marketing Predictions
Download
Jeff Barrett is Business Insider's #1 Ad Executive on Twitter, a Forbes Top 50 Social Media Influencer, a PRNewswire Earnie Award winner for Best Use of Video In Social Media, and a 2015 Shorty Award Best Business Blogger. He believes that, in PR, you are only as good as the relationships you develop and the dots you can connect.